Are e-bike sales losing steam? (And Reason No. 642 why I love my cargo bike)
Is the e-bike revolution losing power because of the economy's sluggish recovery?

Yes, according to a story in The Los Angeles Times, which highlights a few struggling electric bicycle shops in southern California.

Two years after gas toyed with $5 a gallon, interest seems to be waning, according to the piece:
******************************


Even Vermont has a Revolution Cargo!
Special Delivery!: Sustainable Urban Transportation for Sustainable Food
http://www.justmeans.com/index.php?action=readeditorial&p=36244
Do you really need a car to make a quick trip to the store?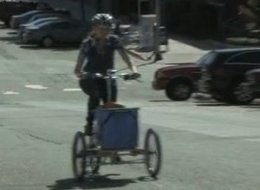 **************************
Metro Ped -
Harvard Bookstore now delivering !
http://www.mediabistro.com/galleycat/harvard-book-store-bicycle-delivery_b14470?c=rss
Posted 10/21/2010
More news hot off the press..(do people still say that?)
B-Line
in the news
http://bikeportland.org/2010/10/07/pedal-powered-b-line-helps-downtown-dry-cleaner-be-more-
eco-40809
More from Portland B Line.....
http://www.kptv.com/news/25359384/detail.html
****************************************
Let
Fed Ex
tell you why Cargo Bikes are so Important to your
Urban
Metropolis!
Click this link! BTW- We don't use any motors!
http://thecityfix.com/fedex-makes-more-efficient-deliveries-with-zero-emissions-electric-bikes/
Here I am delivering Live Cargo in Riverside Park!
We can do the same thing right here in NYC!
Just give me a call!
917 295 1954
Email